IVR Service Provider in Delhi NCR
Interactive Voice Response (IVR) is an integral part of most business phone systems and aim to provide a frustration-free caller experience by routing customer calls to the right person or department, and generally provide automated call assistance. They can be used to provide additional information, take payments, as part of a general on-hold messaging service to create an improved customer experience. A key advantage of IVR systems is that they can handle large call volumes much more efficiently and cheaper than having human assistants at hand.You have to stay ahead of the competition in modern times. And being one of the leading IVR service provider in Delhi NCR, with us you will be able to do that. You should choose the best plan for your requirements.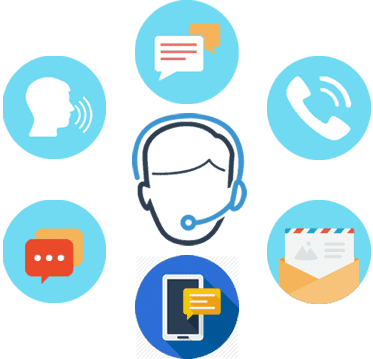 Got any Questions? Call Us Today
In simple words, IVR stands for an automated voice system which helps in making customer segmentation and routing easier. It enables the customers to choose the option through the keypad of their phone. It is popularly employed in help centers and has also found use in other scenarios such as customer feedback.
An example of implementing IVR for hotel booking and their customer service. First, the hotel will probably want to understand the language the customer is most comfortable with. After selecting the language, the company checks whether the caller is a pre-customer or not.
If customers have any queries that can be handled by the system, it can be handled by the IVR system itself. For example, if you want to cancel their booking, registered users can directly use the IVR to cancel their booking.
If the user wishes to speak to a customer support agent, they will be connected to the right agent based on their priority.
So how do you ensure that your IVR service provider in Delhi NCR delivers the real benefits you expect from them, enhanced customer service and customer support while increasing productivity through automated tasks?
First of All, It is Required to Use Reasonably The Features That an IVR has:
The Results, When These Features are Applied Accurately, Can be Measured:
Benefits of Having an IVR Service Provider in Delhi NCR:
Optimize client time
An operator's time is far more valuable than a device's time. The more requests received are sorted through a sequence of options with multiple filters, the more likely it is that the customer's call will reach the exact agent, ie: the advisor most qualified to accept such requests available.
Thus, at the time of connection, the operator can immediately go to the point and explain the reason for the request and its resolution. While it is challenging to avoid introductory questions aimed at verifying the identity of the customer and confirming their issue, IVR service provider in Delhi NCR offer to maximize the operators' valuable time and devote to resolving customer issues.
Control the organization by amplifying the vocal self-service
Recent research shows that for certain types of claims, customers prefer to deal with an operator. This is often the case when it comes to obtaining information or solving customer service problems. On the other hand, many information queries can be satisfied with automated assistance to which the customer is directed through IVR.
Enhance client experience
Waiting on the phone is one of the primary causes of customer dissatisfaction. Thus, an IVR does not immediately contribute to reducing waiting times, but, as we have seen, allows pre-screening of calls to reduce processing times, regardless of the number of applications, and here Allows care to be delegated to a single device, so wait times will be non-existent.
It also makes it fair to put this into practice by announcing waiting times to the customer, who can determine with the information whether to wait, or opt for another route that offers other benefits. The possibilities of IVR are practically endless today, but the key to a successful customer experience is empowering the customer to always communicate with an agent, which will prevent them from becoming anxious or frustrated.
Choose IVR Service Provider in Delhi NCR
The key is to hire an IVR service provider in Delhi NCR that extends automated assistance in the form of services produced by operators. The resources that current tools give us are that service providers can practically tailor these services and improve or extend them in different situations according to requirements or circumstances.
Thus, getting IVR services becomes essential if your business deals with customers. First impressions last, and you never want to make such an impression that ultimately leads to a lost business deal. IVR services are designed in such a way that your firm looks like a comprehensive organization, and this ultimately transforms the sales of your company.
We are Meta IT Services, an IVR system provider in Delhi NCR for your business, and then there is no better platform than a cloud telephony provider like Meta IT Services. It is economical and also saves you a lot of time. To know more you can visit our website:
Got any Questions? Call Us Today
If you have any questions regarding your project, please contact us. We will get back to you as soon as possible.